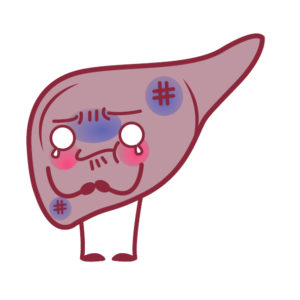 Hepatic steatosis is an accumulation of fat in the liver. It is an augmentation of fat in the hepatic cells and can cause complications in cases of obesity, alcohol intoxication (due to an excessive consumption of alcohol) or hepatic disorders (like diabetes Type 2). Steatosis can be isolated and we call it « pure steatosis » or it can be associated with hepatitis: Non-Alcohol Steatosis Hepatitis( or NASH).
Usually, people suffering from those do not show any symptoms. In some cases, steatosis can evolve into fibrosis that may transform into cirrhosis due to obesity and overweight in our occidental societies.
More information in this video :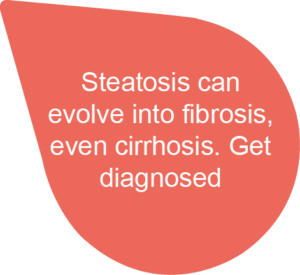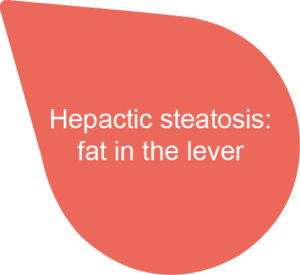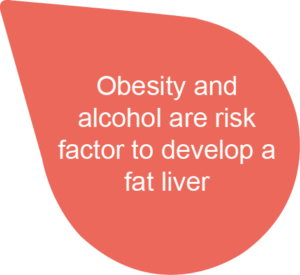 Non Alcoholic Fatty Liver Disease
NAFLD is usually seen in people who are overweight or obese.
According to the WHO (World Health Organization), obesity is defined as an excess of weight by increasing the fat mass of an individual.1
However, it has been found in people of a normal weight whose diets are very high in fat and/or sugar content. A healthy liver should contain little or no fat and for most people, carrying a small amount of fat in the liver causes no major problems. Having high levels of fat in your liver is also associated with an increased risk of problems such as diabetes, heart attacks and strokes.2
If fat has been in the liver for a prolonged amount of time, the liver cells can become inflamed and the term NASH (Non Alcoholic Steato Hepatitis) is then used. NASH may progress, like many liver diseases, to cirrhosis and liver cancer. See the diagram below:

Do not hesitate to read our article about FATTY LIVER DISEASE
References:
NHS Choices. Non-alcoholic fatty liver disease (NAFLD). http://www.nhs.uk/conditions/fatty-liver-disease/Pages/Introduction.aspx Accessed 23 Feb 2017.